Opening Ceremony
With a minimum of speeches and a maximum of amusement the Dutch host celebrated a phantastic opening show in the theatre hall of the RAI Congress Center of Amsterdam on Wednesday evening:
Corpus Acrobatic Theatre shows visual acrobatics at a very high level.


Hans Klok, the world famous illussionist - the "David Copperfield of Amsterdam" - amazes the teenaged audiance with a big show and ended with a surprise: Renske Endel came out of a box and celebrated a nice show program on the stage.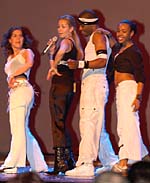 A sport acrobatics group from Zwolle presented its program "The Journey" and than comes "Do", a Dutch singer and super star, who is famous all over the world with her title "Heaven", for instance - all together a manyfoldly program which was the right for the young gymnasts and guests from the 37 participaiting nations.
After two wounderfull hours UEG-President Dimitrios Dimitropoulos from Greece declered the European Champs for open!
---
PODIUM TRAINING:
In the first subdivision of the day...
... Romania was impressive and looks set to grab another team title. With no major errors and a high level of difficulty, nobody could match them today. Catalina Ponor sat out bars, Monica Rosu beam and Silvia Stroescu floor with Alexandra Eremia and Daniela Sofronie doing all four pieces of apparatus.

Spain's Elena Gomez didn't look as sharp as in recent memory, with small errors here and there – short on her triple twist, wobbles on beam. According to the announcer, Patricia Moreno has submitted a quadruple twist for evaluation but only competed a 3 ½ here.

Since they had not had full teams at the 2002 European championships, both these medal contenders were relegated to the first group by the (bad) luck of the draw. The then had to sit and see what the others could do in the last session of the day. The top eight teams from 2002 are automatically in the last group.
Russia looked inconsistent and struggled here and there. Svetlana Khorkina did all four pieces of apparatus and debuted new music on floor but largely kept her choreography from last year. Leysera Gabdrakhmanova, highly touted as a vaulter and tumbler, failed to impress across the board. Her double twisting Yurchenkos were scrappy and she put her hands down on her double layout. Polina Miller has mistakes on her one event, bars.



Ukraine's best showing was ironically vault, normally their weakest event. Bars and floor were a struggle for most with Irina Yarotskaya comitting a lot of errors. She took a scary fall on her bars mount of straddle over, totally missing the high bar and crashing into the mat. Alina Kozich looks set to contend in the all-around with smooth bars and a nice floor routine.


... next to the podium: Svetlana Khorkina
Great Britain put on an impressive showing – nothing too spectacular (with the exception of Tweddle on bars) but a totally confident team performance. Vanessa Hobbs debuted a 1 ½ twisting Yurchenko that looked easy.


France is battling numerous injuries, but looked very strong on bars where Emilie Le Pennec earned applause for her hop full to Delchev and double double dismount.

Recently injured Suzanne Harmes did everything but bars for the host team and the Dutch left a good impression despite the string of injuries they have had to face in the past. Also coming off an Anaheim disappointment, Italy also seems on the way back with some solid gymnastics on display here.
.