If German all- around champion Thomas Andergassen (Stuttgart) or Sven Kwiatkowski (Chemnitz) will compete a full all-around in the team competition, will only be decided on spot in Patras as the team result will be absolutely of prime importance according to Hanschke.
Tom Neubert (Chemnitz), Ronny Ziesmer (Cottbus) and Dmitri Nonin (Berlin) make the team complete. Chances to reach a final might have Kwiatkowski on pommel horse, Dimitri Nonin or Tom Neubert on high bar.

"At the competition against Romania, France and Switzerland a clear improvement in the performance of our gymnasts could be seen and I am confident that they can realise the planned goals", said head coach Rainer Hanschke.
> ...viele fragen: Wo ist Stephan Zapf...?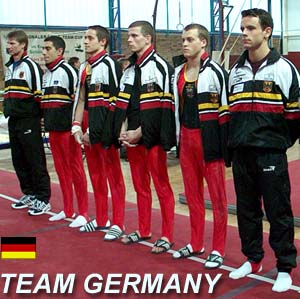 From r.-.l.:> Tom Neubert, Thomas Andergassen,
Ronny Ziesmer, Sven Kwiatkowski, Dmitri Nonin,
Trainer Rainer Hanschke