18. June 2018
Gymnastics for All
The EUROPEAN GYM FESTIVAL COUNCIL (EGF-C)
♦♦ ... is an organization bringing together the GYM Festival Organisations from across Europe and the World considering the importance of gymnastics diversity as a guarantee of sustainable intercultural development and supporting the establishment of European Gym Festivals.
To coordinate and to open the European Gym Festivals program "E G F" promotes the international Calendar and the international particularities of the events as well the friendship between the countries.
E G F will be supported by the International Sports and Cultural Association (ISCA)
* ... read more at the ►► EGF Charter (2010, Oct)

.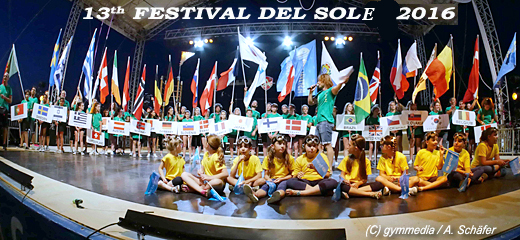 ... next EGF highlight is the 2018 14th FESTIVAL del Sole in Italy!
** ... past events:
(1 / 2015) ► 55. Festival BLUME GRAN CANARIA (ESP)
→ 2015, Nov 27 - Dec 05
(2 / 2015) ► Landeskinderturnfest / STB (Sigmaringen, GER)
→ 2015, July 24 - 26
(3 / 2014) ► 54. Festival BLUME Gran Canaria (ESP)
→ 2014, Nov 21 - 29

(4 / 2014) ► 12. Festival del Sole 2014 (Jun 29 - Jul 04)
→ EGF-Preview: → EGF-coverages;
* GYM v i d e o --: 12th Festival 2014:

... past event → 11th Festival del Sole 2012 (ITA)
+++++++++++++++++++++++++++++++++++++++++++++++++++++++++++++
(5 / 2014) ► Freiburg /Breisgau 2014 (Baden & Swabian Gymnastics Federation, GER)
* May, 28 --: ► 2014, May 28 - Jun 01
(last:
Turnfest Heilbronn 2012
Gym Festival 2011)
++++++++++++++++++++++++++++++++++++++++++++++++++++++++++++
(6 / 2013) ⇒ Danish Landsstaevne Esbjerg 2013
(?) ... more interest European Festival organizers are welcome!!
+++++++++++++++++++++++++++++++++++++++++++++++++++++++++++
* For more questions, please send us an e-mail to
>> office@gymmedia.com
**
LINK LIST / ... mehr interessante Links:
---
(?) Are you interest for membership...? YOU are welcome !
For your questions, please send us an e-mail to
> office@gymmedia.com
---
* ... it's an offer/proposal of the
European Gymnastics Service GYMmedia INTERNATIONAL