25. April 2010
Birmingham, Great Britain
Artistic Gymnastics
Great Britains Juniors with 5x Gold most successful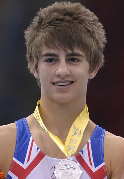 Max Whitlock (GBR) : Double victory
After the team success of the Brits at the Junior-European Championships in Birmingham, the double victory in the all-around by Sam Oldham ahead of Max Whitlock both had furthur apparatus achievements today:
Sam won the finishing high-bar final after Max won on the floor and on the pommel horse and advanced to the most successful junior.
Also the Swiss boys overstepped their limits: Oliver Hegi is the three-time vice-junior European Champion on the pommel-horse, parallel bars and high-bar. Eddy Jusof added another Bronze medal on the parallel bars.
Germanys Daniel Weinert got the Bronze on the pommel horse - and therewith the only medal for Germany...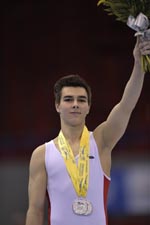 Oliver HEGI (SUI) - three time vcze-European Champion, the Swiss haven't seen this before!
The ring victory went to the Spaniard Nestor ARBAD and Armenia won the vault Artur DAVTYAN, and Armenia already won a Bronze medal on the pommel horse and another 2 finals places at the rings.
Romanias only win on the parallel-bars for A. MUNTEANU, another Silver medal was achieved on the floor.br />
Top Switzerland ...!
Behind the 5 wins and in total 8 medals of Great Britain, who are therewith best prepared for the Olympic Games in their own country, the 6 medals of the Swiss boys were impressive (3 Silver, 3 Bronze), but not unexpected if one consider the newcomer talents of the last years.

>> Alle Finals, Junioren