Mittwoch, 06.11.2002
Erster Trainingstag in Granada:
Top-Favoritin Irina Tschaschina wird nicht starten
Heute hat in Granada das EM-Geschehen mit dem ersten offiziellen Training begonnen. Bei strahlendem Sommerwetter war zugleich noch etwas Gelegenheit, die historische Altstadt zu besichtigen.

Die größte Neuigkeit: Mitfavoritin Irina Tschaschina (RUS) ist nicht vor Ort, wird wegen Verletzung nicht am Start sein. Es hatte sich bei den letzten Grand Prix Turnieren von Sofia und Holon schon angedeutet; dort war Alina Kabajewa bereits "allein", d.h. ohne ihr Doppel Tschaschina, an den Start gegangen. Nicht nur wegen des gemeinsamen Doping-Verfahrens - das bis zum 13. November durch das Sportgericht in Lausanne noch ausgesetzt ist - wurden die beiden in letzter Zeit stets in einem Atemzug genannt, sondern vor allem wegen ihrer sportlichen Leistungen, die sie immer ein wenig von der Konkurrenz abhoben. Seit sie nach der Sperre beim Grand Prix Turnier in Berlin erstmals wieder an einem internationalen Wettkampf teilnahmen, dominierten sie, wie schon die Jahre zuvor.
Nun gilt Titelverteidigerin Alina Kabajewa als die Top-Favoritin für den Einzeltitel.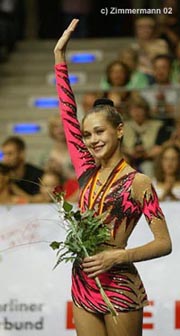 Irina Tchachina (RUS)
GYMmedia-Korrespondenten in Granada:
GYMmedia- correspondents in Granada
Gigi Eschmann, Dirk Zimmermann
Translation:
Lisa Worthmann
Wednesday, 06.11.2002
First training day in Granada:
Top- favourite Irina Tchachina won't compete
Today the European Championships action has started in Granada with the official training. The bright and sunny weather also gave everyone the opportunity to visit Granada's historic old part of town.
The biggest news: Irina Tchachina (RUS), one of the highest favourites, has not travelled to Granada due to an injury. This could already be expected after the last Grand Prix tournaments in Sofia and Holon as there already Alina Kabaeva has competed "alone", without "double" Tchachina. Not only due to the shared doping proceedings - which have been interrupted until November 13th by the Court of Arbitration of Sports in Lausanne - but also mainly due to their sportive sucess which has always placed them a little bit in front of the other competitors, both of them always have been mentioned with the same breath recently. Since their first competition after the doping suspension, the Grand Prix tournament in Berlin, they have dominated in the same way as the years before. Title holder Alina Kabaeva now is the top favourite on the individual all-around title.