(February 2000)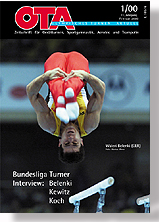 Valeri Belenki/GER
(Titelfoto: Markus Ulmer)

First time OTA reported ONLINE from the WORLD CHAMPIONSHIPS in Tianjin.
together with GYMmedia



Letzte OTA-Ausgabe 6/99 (Dezember/99)
Sample: EDITION 01-2000
European Championships Sports Aerobics '99
INTERVIEWS:

Is Valeri Belenki starting in his last season...?
Katrin Kewitz : She saw the end after Karlsruhe, already..!
Ursula Koch: Personal remembering

In Portrait:
Christa Herrmann (International judge) "All was happen with a lot of fun.."
Ljudmila Turischtschewa:
In our region the artistic gymnastics are dying!
NATION in spot light: Argentinien
Who can start in Sydney?
Calendar 2000



German "Bundesliga", gymnasts and notices, talents in the age of 11 and 12 ...
... and many other information as usual,

...and , of course:
Results, results, results from
Artistic Gymnastics, RSG, Trampoline, Aerobics.....world wide !