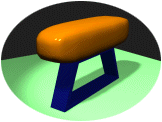 History of Vault, men (I)
For a long time there was no specific apparatus for vault. In it's place the pommel horse was simply set up lengthwise and used for competitions.
At the first modern Olympics, held in Athens in 1896, vault was a separate discipline won by German Carl Schuhmann from Charlottenburg (Berlin). Seven years later at the first world championships in Antwerp, Belgium, a straddle through over the "long horse" was one of many compulsory routines.