It might have been at the back of the gym, but nonetheless the center of attention: the vaulting area with Janssen&Fritsen's new creation, the vaulting table "PEGASES", which will make its world debut in October.
It is already being used at official national and international competitions all over the world. Especially young elites are benefiting from the advantages of this apparatus innovation.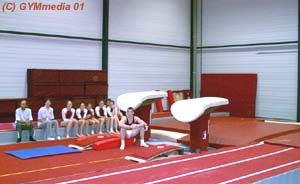 Two of the four Pegases set ups

.
There are two more in the other direction which offer the possibility to land on different types and heights of mats.