Rotation 2:
Allana Slater (AUS) starts her second rotation with a fall from beam. 8,212


Daniele Hypolito (BRA) loses ground with too simple vaults. 9,056.


Lydumila Yezhova (RUS) sneaks around her whip-triple twist opening on floor 8,975.
<<

Tasha Schwikert (USA) is quietly earning points with her solid work – 9,350 on beam. (photo)


Andreea Raducan (ROM) fights bars, her nemisis, and takes a hop on her double front dismount 8,862.

Verona van der Leur (NED) swings bars with incredible easy and difficulty. She sticks her double-double dismount for a 9,4 – highest basr score so far.

Natalia Ziganshina (RUS) gets through her floor routine well to stay in the mix – 9,387.
Sabina Cojocar (ROM) shows a combination of hop full – full-twisting giant- 1 ˝ pirouette- Tkachev on bars. 8,625.
Silvia Stroescu (ROM) is solid on beam.9,387
Svetlana Khorkina (RUS) brings the rotation to the end on bars.
Leaving out the full turn after the stalder on low bar and looking a little hesitant, she scores 9,537 (9,8 SV).
Svetlana Khorkina is in front now >>
after the second rotation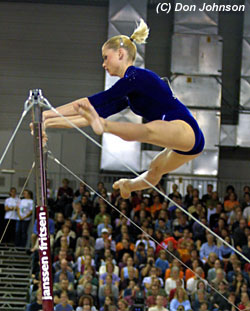 Current standings:
1.
Khorkina
RUS
18,905
2.
Ziganshina
RUS
18,762
3.
Hypolito
BRA
18,618
Rotation 3:
Tasha Schwikert (USA) puts in another solid performance on floor with a full-in mount. 9,35.
Verona van de Leur (NED) dashes her hopes with a fall on her ff-layout on beam. 8,55
Natalia Ziganshina (RUS) has problems landing her 1 ˝ twisting Yurchenko but her double twisting one works just fine. 9,343
Sabina Cojocar (ROM) has a wobble on beam but is confident enough in the rest of her routine. 9,337.
Silvia Stroescu (ROM) powers through her difficult tumbling – double layout mount , 2 ˝ twist – punch layout front- for a 9,225.
Tabitha Yim (USA) vaults well enough to keep hot the heels of Ziganshina. 9,143.

Svetlana Khorkina (RUS) nails her new dismount of RO-gainer 2 ˝ twist. 9,237

Andreea Raducan (ROM) is spectacular in places (full-twisting back tuck; double pike dismount) but takes a few steps on her front pike mount and has a few balance checks for a high 9,475.

Lyudmila Yezhova (RUS) sits down her vault and can only average 8,175.

<< Andreea Raducan - after third rotation on fourth place with a difference of -0.45 points to Svetlana Khorkina.
Current standings:
1.
Khorkina
RUS
28,142
2.
Ziganshina
RUS
28,105
3.
Yim
USA
27,730
Rotation 4:
Sabina Cojocar (ROM) opens with a 2 ˝ twisting front and charms the audience and the judges for a 9,462.

Tabitha Yim (USA) avoids trouble with a solid if not brilliant bars effort marred by some form breaks. 8,950 (9,5 SV).

Svetlana Khorkina (RUS) was far from perfect on floor with some stumbles on her landings but entertaining as ever for a generous 9,475.
Daniele Hypolito (BRA) finished her competition with another great effort on beam for a 9,375 to collapse into the arms of her new coach Oleg Ostapenko.

Andreea Raducan (ROM) needed more than a 9,90 to tie Khorkina for the AA title. If she was dejected going to the floor, she didn't show it. A step out of bounds on her 2 ˝ twist punch layout front cost her. When her score of 9,262 was flashed their were boos from the audience.

Verona van de Leur (NED) showed the crowd she wasn't going to go out without a fight with a great floor routine to end. 9,350.

In the final routine of the entire competition, Natalia Ziganshina (RUS) made up for all the mistakes she had made earlier in the competition by nailing her ultra difficult bars set for 9,20 and the silver medal.

Swetlana Khorkina >>
After 1997 in Lausanne she won the all-around title for the second time
Final standings:
1.
Khorkina
RUS
37,617
2.
Ziganshina
RUS
37,305
3.
Raducan
ROM
36,949
(Report: Nora Schuler
Photos by Don Johnson;
Translation: Reinhard Linder;
Web editors: Eckhard Herholz/Sonja SchmeisserGermany)