A homogeneous France was clear favourite in this penultimate group

,

It seems even possible that the Frenchmen qualify for the final ahead of the Russians. In front of a high number of fans the team gets motivated noisily. There are not less spectators from the Netherlands completely dressed in orange and backing up their team. And a complete block on the main tribune is full of women and men swinging red flags with a white cross, and encouraging their team: The Swiss have sent a good troop to Ghent, too. There is not that much that can be expected from the Slovenians. However, plenty from the specialists on parallel bars and rings, Mitja Petkovsek and Aljaz Pegan. A Bolivian, a Croat and a Litauian perform in a mixed team.

<< Florent Maree, the best of French all around gymnasts
Rotation 1
France commences strongly on vault. Johan Mounard starts with 9.25 points, Cedric Guillard increases with a Yurtchenko-Double twist to 9,3, Yann Cucherat does the best jump with 9,337, performing a safe handspring-double front as well as Florent Maree (9,25). On pommel horse Slovenia remains between 8 and 9 points. The Swiss show solid routines on parallel bars. National Champion Dominik Däppen draws attention with 9.162. Even though the Dutch do not show extraordinary performances, the fans applause every routine noisily. Ivo Bennenk is their best man with 8.025 points.
Rotation 2
The atmosphere is better than ever before. And there is plenty the fans can applause for. The Dutch celebrate the boys on vault. Mark von Roon starts with a straight Tsukahara (8.6), all the others perform Kasamatsus. Herre Zonderland scores 8.8, Ivo Bennenk 8.975. The spectators with the orange hats jump up at the moment when there is a 9 before the comma for the first time. Indeed, Jeroen Hardon reached a 9.25 and Peter Geurts even manages a 9.375. The Swiss fans back up their troop despite a high number of crashes on high bar. Christoph Schaerer is the one who benefits receiving a 9.525 for a stylish routine with a Winkler as highlight. The Frenchmen have some problems on parallel bars. Cedric Guille starts strongly with a 9.187. Johan Mounard (9.35) performs his routine very confidently - inclusive double somersault and Tippelt. Florent Maree is doing even better, and gains 9.475. But both Yann Cucherat and Francois Ruffier have problems and score beneath 9 points.
Rotation 3
The Dutch perform on parallel bars without great mistakes. Their scores are in the lower part of the 8-area. The Frenchmen are very nervous on high bar. Cedric Guille is the first to score a 9.125 with a perfectly executed Winkler. Florent Maree reaches 9.375 and Yann Cucherat has to be content with 8.85 after a badly done piked Stalder. On floor the Swiss offer only average performances. None of his team-mates scores higher than Felipe Andres' 8,925 points.
Rotation 4

On floor the Frenchman disappoint enormously. Not even one scores higher than 9. The Dutch are absolutely happy, even though they do not score higher on high bar, too. Both Jeroen Hardon and Herre Zonderland catch their Kovacs-somersaults. The latter receives with 8,337 the best result. The Swiss have a successful experience on pommel horse. All the five gymnasts finish their routines nicely. "Hopp Schwyz", as it sounds from the Swiss block, as soon as a gymnast goes on an apparatus. Dominik Däppen swings to 9.162 points, Martin Fuchs does not score much lower. On parallel bars some difficulties are just missing in the routine of the Slovenian Aljaz Pegan. Thus, he

receives only 8,812 and remains behind his countryman and eternal concurrent Mitja Petkovsek. The European Champion performs professionally and receives a deserved 9.575.
Pegan: Elegance is not enough ...>>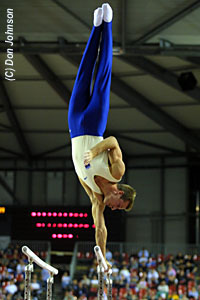 Rotation 5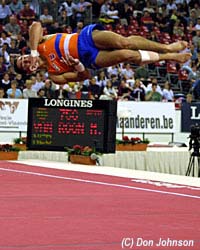 Marc van RooN, Niederlande


Aljaz Pegan appears to be in another world. The front somersault with ½ turn over the high bar called after him is done perfectly, then, however, he goes off the apparatus twice. The dream of a final is over. The Swiss perform on rings without great highlights. Felipe Andres is the best with 9.05 points. The Dutch cheer the heroes on floor. Sensationally,

Marc van Roon

even demonstrates a successful

world premiere:

A tucked front somersault with full turn into forward roll. He had handed in this element to FIG as new element: The Roon-somersault was born!
And Peter Geurts, who twists himself with plenty of turns in his acrobatic series to 9.212 points, deserves his applause. The Frenchmen commence unusually weak on pommel horse. Johan Mounard is the first one to reap important 9.362 with a Tong Fei and a Spindel in the Thomas. Sebastian Tayac and Francois Ruffier appear highly elegant and score 9.412 and 9.487, respectively.
Rotation 6
The Dutch do quite well on pommel horse, Ivo Bennenk, who receives a 8.3, is their best one. The Swiss demonstrate on floor all their abilities: Tsukaharas with two and two and a half twists or with double somersault. For the latter Dominik Däppen receives 9.5 points, which is celebrated with cowbells. Andres (9,2), Sager (9,25) and Roman Schweizer (9,362) are celebrated by their fans, too. Once more, the Frenchmen do not perform excellently on rings. But the two 9-scores are enough for the team, to qualify for the final with a total of 218.5 points ahead of France and China.
Result:
France is able to do more than it has demonstrated. There is hardly a chance for a medal, but the qualification for the final is already a success. The Swiss and the Dutch have almost completely used their abilities and presented themselves excellently. Both teams can be envied for their fans.
Team Standings after 9 groups:
(... 8 teams make the finals!!)
1. BLR 222,132
2.USA 221,420
3. KOR 220,857
4. UKR 218,757
5.FRA 218,593
6.CHN 217,384
7. RUS
217,384
8.ITA
216,043
9. LAT
215,030
10.SUI
213,982
11. CAN
210,63
12.ESP
210,635
13.AUS
2010,207
14. HUN
208,283
15. GBR
208,085
16. BUL
206,571
17.FIN
305,482
18.SVK
202,883
19.POR
202,858
20.GRE
202,371
21.BRA
201,373
22.CZE
201,096
23.SLO
199,945
24.ARG
199,922
25.MEX
199,334
26.TPE
199,260
27.NED
198,820
28.KAZ
196,297
29.AUT
195,361
30.ARM
195,099
31.RSA
194,510
32.EGY
193,384
33.DEN
193,034
34.IND
185,511
35.SRI
150,549
36.TUR
150,248
37. MAS
148,412