SUBDIVISION 3 / GRUPPE 3 (13.40-15.40 Uhr)

MEX

TUR

KOR
The Koreans seemed strongest at the beginning of this group....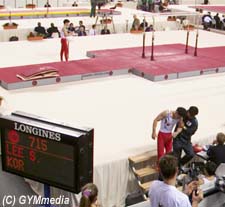 Lee, two nasty falls
Rotation 1:
The Koreans proved why they are favourites with spectacular releases on high bar. Their result of over 36 points is excellent despite a bad crash by Lee Sun-Song on his dismount.
... but Lee, Sun-Sung brought unrest to the team. Second up on high bar, he had a stiff legged landing on his double-double and had to be carried off the podium. He didn't compete on floor but surprisingly resurfaced on pommels. He sat out vault but on bars he finally met his match. He fell on his neck on an underrotated double salto and had be carried out of the arena an a stretcher. ...
| | |
| --- | --- |
| | ... but the rest of his team had a fantastic competition. Yang, Tae-Young went into the lead in the individual standings after his parallel bars routine ahead of his team mate Kim, Dong-Hwa and Russian Bondarenko ... |
Mexico started well on floor. Things didn't go quite so well for Turkey. The mixed group of gymnasts from Venezuela and Algeria struggled on pommel horse.
Rotation 2:
The Koreans seemed a little nervous on floor with lots of their tumbles going out of bounds. Their twists were rarely well executed resulting in low scores. Lee Sun-Sung was their best gymnast with 9,387. Still their lead is minimal after two rotations. The Mexicans cannot back up their strong floor show with similar results on pommels and the Turks show no improvement on bars.

Rotation 3:
The Koreans were sensational on pommels. Their first gymnast up, Lee Sun-Sung scored a 9,337 setting the stage well for his team mates. Yang Tae-Young was incredibly sure of himself and equaled his team mate's score while over on high bar, the Turks were dropping like flies. Lee Yang-Hyung put in another flawless performance on high bar. He was followed by Shin Hyung-Ook who was the first gymnast to fall. Then Kim Dong-Hwa fell too and received 8,612 points, the score was dropped. Now the Asians slip behind the Russians by two tenths..
The four gymnast Mexican team is holding on to sixth place behind South Africa. This is especially surprising since they can't drop any scores.
Rotation 4:
South Korean Yang Tae-Young starts with beautiful strength moves on rings. The judges' reward of 9,275 is definitely not too high. Lee Sun-Song has some lovely combinations for a 9,162. You Won-Kil's exotic routine topped it with a 9,5. Kim Dong-Hwa shows the best rings routine so far with perfect holds and strength moves and capped off with a nailed double double for a 9,562. So it doesn't matter that Shin Hyung-Ook could only muster a 8,3 points for the last routine. As a result of this clinic on rings, the Koreans take a surprÝsingly large lead of 2,5 points. The Mexicans improve their ranking on vault, they are now fourth not far behind the British team.
Rotation 5:
Things rarely go wrong on vault. This was once again true for Korea. All four gymnasts scored in the nines for their variations of the Tsukaharas with 2 or 2 1/2 twists and Lee Jang-Hyung was no exception with his double twisting Yurchenko. South Korea expands its lead. The Mexicans are astonishingly good on bars. Franciso Lopez even outscores "Sweet" Alexei Nemov with his 9,15.
Rotation 6:
Will the Koreans be able to stay in the lead? You Won-Kil shows a solid if not brilliant routine on bars. Then the shocker: Lee Sun-Sung crashes his double salto and seems stunned. Still, he gets up and continues and finishes the routine. Then disaster strikes on his dismount. He cannot finish his double salto, lands on his face and lies still for a few seconds. He collapses, holding his wrist, as the volunteers try to prop him up and is taken out on a stretcher. His team mates go through their routines unfazed. And it is enough: 220,667 - more than three points ahead of the Russians. Mexico can't hold on to fourth place after two missed routines and falls behind the Czech Republic.
Conclusion:
South Korea can genuinely hope for a medal. They have more than made up for the Russian popularity bonus with their excellent gymnastics and friendly manner. Compliment to Mexico: this small team showed the world that they can get close to the top nations.