SUBDIVISION 8 / GRUPPE 8

SVK

NOR

AUS


CHN
... and finally Australia!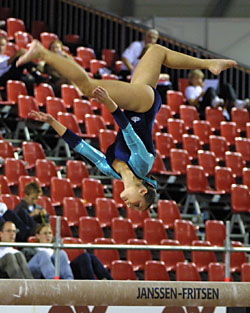 Henriette Hanssen
Norway better than Hungary


Alexandra Croak (AUS) >>
- one of the 2000 Olympians, like Slater and Dunn
Rotation 1:
China's sole female competitor Sun Xiaojiao vaulted a Hristakieva to open her worlds outing.
Australia began their quest for team finals on floor with good routines from Kylie Tanner and Alexandra Croak. Allana Slater debuted her new floor routine to music from the film "Moulin Rouge" on the world stage with a whip to triple twist (a little short), 2 ˝ twist to layout front and a double pike. Her dramatic choreography suited her and seemed to go down well with the judges who awarded her a 9,35 (9,9 SV) which means a trip to the finals for Allana.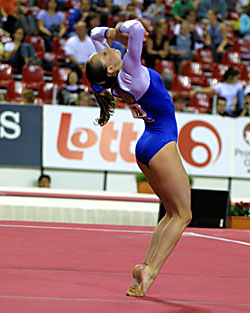 Rotation 2:


Sun Xiaojiao was fair on bars but not as brilliant as one is used to from the Chinese bars workers which was reflected in her score of 8,725 (9,6 SV).

The Australians continued well on vault with Slater once again being their top scorer with a 9,15 for a 1 ˝ twisting Yurchenko. Anchored by Allison Johnston, the Aussies scored a total of 36,024 on vault.

Allana Slater (AUS) >>
highest Aussie in all-around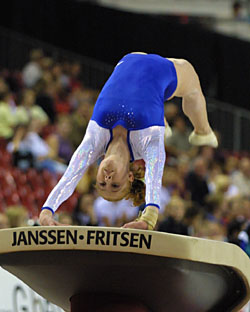 Foto

Sun, Xiaojiao (CHN)

Rotation 3:


Living up to the Chinese tradition of brilliance of beam, Sun Xiaojiao looked like a potential world champion until she wobbled away a higher score than the 9,212 she eventually received on her leaps and took three steps back on her double tuck dismount. Her work elsewhere – high layout to two feet and beutiful combination of front walkover-Rulfova – was exquisite and she was able to maintain her 10 SV.

Australia began poorly on bars with falls from Johnston on a Jaeger and Jessica Zarnay. Their third comeptitor Alexandra Croak then dismounted with a simple layout. Allana Slater injected some confidence into the team with a nice routine that included a hop full to Gienger for a 9,162 (9,9 SV), enough for the final. Jacqui Dunn went one better by qualifying to the bars final in third place with a clean effort packed with difficulty (Bi turn to Jeager; full out dismount).
Rotation 4:


Sun Xiaojiao did enough on floor to qualify to the all-around final.

The Australians had to swallow falls from Tanner and Croak on beam. Neither Dunn nor Slater could upset the ranking on beam but their efforts lifted Australia into the team final in sixth place, almost a point ahead of Ukraine. Slater was the final gymast after a day and a half of preliminaries and finished in sixth place in the individual rankings as well as earning two final berths.

Romania deservedly won prelims by being the most consistent team with a high level of difficulty. Consistency also helped the USA to second place.



Australia celebrates!

The Dutch were without doubt the sensation of this first stage of the competition jumping from 14th place in Tianjin to third here. The delighted Germans also made a huge step forward from 15th to 8th while Russia, Ukraine and Spain were disappointing compared to their previous competitions.

Report: Nora Schuler / Photos by Don Johnson
Web editor: Eckhard Herholz
Team Standings after 8 groups:

... the top eight nations are qualified
at the Team final at Wednesday (from 5 p.m. on)

1. ROM 146,646
2. USA 145,147
3. NED 144,159
4. RUS 144,134
5. ESP 142,797
6. AUS 141,483
7. UKR 140,559
8. GER 138,747
9. GBR 138,671
10. CAN 138,506
11. BRAS 138,320
12. FRA 136,747
13. BLR 136,108
14. BUL 132,659
15. BEL 131,885
16. SVK 131, 859
17. CZE 130,509
18. ARG 130,482
19. NOR 128,948
20. HUN 128,934
21. RSA 128,221
22. LAT 127,408
23. FIN 123,895
24.KOR 121,920
25. AUS 120,195
26. POL 118,884
27. IND 98,522
(Final standings after qualifikation)
---